Grievance: Get Your Weight Up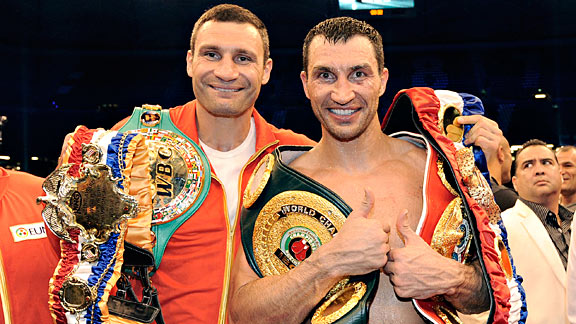 Photo courtesy of ESPN.com
As I was reading about the yawnfest of the Wladimir Klitschko fight on ESPN.com, an interesting thought crossed my mind, "Why in the hell does boxing have so many weight classes?" There are 17 weight classes governed by the 3 major sanctioning bodies (WBA, WBC, IBF).  This doesn't include the various other groups (IBO, WBO…WTF?!?!?).
Manny Pacquiao is the best pound-for-pound fighter in the world having competed in 9 weight classes and winning titles in 8. However those 9 divisions are separated by 46 lbs. Seriously, is there really that much of a disadvantage between 115, 118 and 122 (Jr., Bantamweight, Super Bantamweight).
What this does is create watered down divisions and strings of titleholders instead of true champions. This picture here is proof of what else is WRONG with boxing. It is because of the numerous weight classes, not to mention the alphabet soup of sanctioning bodies that show another example of why boxing struggles to keep mainstream attention. Granted, these divisions have existed for years but maybe it's time the major boxing organizations start "throwing their weight around" and look to consolidate.